Purchase Tickets and CDs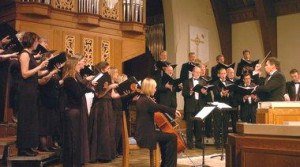 Like many other musical organizations, the Bach Chorale of Grand Rapids is currently unable to meet for rehearsals due to the COVID-19 epidemic. In light of that unfortunate circumstance, we need to allow some time to determine when our next concert can occur.
Thank you so very much for your patronage, and we hope to perform for you again as soon as possible.
To order by mail use the Ticket and CD Order Form in PDF format by downloading form below.
You may now also purchase tickets online via Paypal. Please download and print the form from the link below to calculate your total.
After clicking the "Buy Now" button, the Paypal order form is displayed. The quantity button on this form does not work, so enter the description (such as "2 adult tickets") in the field indicated, and the total amount of your order (such as 36) in the field labeled "price per item", and submit your payment.
Then either mail in the form or email the details of your order to bach.chorale.gr@gmail.com. You will receive your tickets in three to four business days. For orders received after a week prior to our concert date, your tickets will be held at the Will Call table at the concert.